BTPS Releases First Chapter of Indigenous Crime Stoppers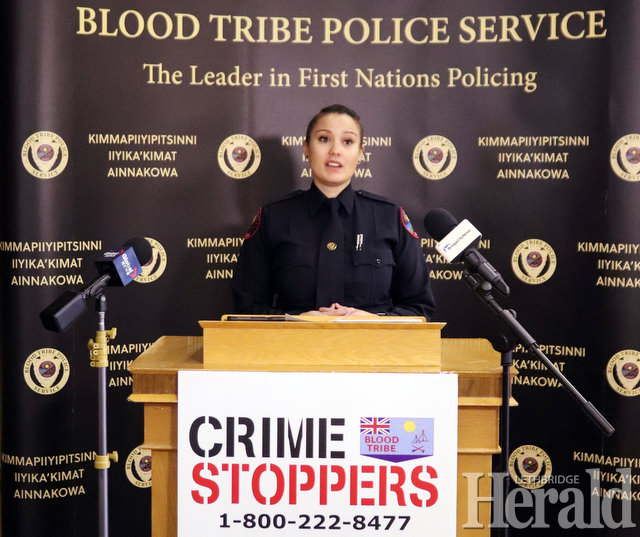 By Lethbridge Herald on March 11, 2022.
Herald photo by Alejandra Pulido-Guzman Blood Tribe Police Service Cst. Samantha Pedersen speaks to the media about the creation of the Blood Tribe Crime Stoppers Thursday at the Rocky Mountain Turf Club.
Alejandra Pulido-Guzman LETHBRIDGE HERALD [email protected]
Crime Stoppers Canada has a new chapter that is the first of its kind. And the community that developed it hopes more will follow.
Blood Tribe Crime Stoppers is the first chapter of Indigenous-Led Crime Stoppers in Canada, an initiative made possible through a partnership between the Blood Tribe Police Service, the Blood Tribe Chief in Council, Blood Tribe Opioid Response and Southern Alberta Crime Stoppers.
"This program was generated and designed for our future generations, for our community, for Kainai. Every voice counts," said Cst. Samantha Pedersen with the Blood Tribe Police Department at a media event Thursday.
She said that for many years the Blood Tribe was in a state of emergency due to the opioid crisis and needed a new way to help people.
"We actually got our first tip the day we launched," Pedersen said.
It's a different avenue, because Pedersen thinks a lot of people don't report crimes for fear of retaliation, and so it's a way to protect them and keep them anonymous.
"Which is really important for us as police officers. To protect our community and its identity," Pedersen said.
Pedersen said it's important to be the first Indigenous Crime Stoppers chapter in Canada because they want to show other Indigenous communities that it's possible to think outside the box and embrace an idea or concept. that you have.
"Not only that, we can work together to keep our communities safe. So, I think right now with the increase in crime in our Indigenous communities, we have to think about other things, but also protect our people at the same time," Pedersen said.
Pedersen hopes community members will call to report anything related to the crime.
"We just need information. Often people witness things and they don't mean anything. Sometimes people are there when something happens and then they leave, they also leave before the police arrive, so all of that is really important," Pedersen said.
Blood Tribe Police Service Chief Brice Iron Shirt said using the Crime Stoppers program to help their opioid crisis would be a huge benefit.
"The Blood Tribe Police Service is proud of the partnership that Cst. Pedersen has grown with Crime Stoppers and the creation of the first Indigenous Police Crime Stoppers program and we look forward to using their services to provide a safer community for people," said Iron Shirt.
Blood Tribe Opioid Response Coordinator Alayna Many Guns said Crime Stoppers is integral to managing, controlling and communicating the concerns people see within the community.
"Blood Tribe members have made it clear that they do not want opioids or drugs in the community. They reached out to myself and the six teams I work with regarding fostering a safe community for their children and for themselves," Many Guns said.
Current Southern Alberta Crime Stoppers President Russ Kramer said they are proud to be involved with First Nations partners and Blood Tribe Police and look forward to continued growth in Alberta and the success of the program.
"Anonymity is a big step and through Crime Stoppers, it's one of the things we've really offered that's really exclusive to Crime Stoppers. It was challenged and upheld all the way to the Supreme Court of Canada," Kramer said.
He said rewards are incentives for some people, but he meant publicly that about 90% of the checks they write for rewards never get cashed. He said it's just the people who are good stewards of the community.
Crime Stoppers has a cap of $2,000 for a tip reward that leads to information relating to any crime.
"As a group, we are a volunteer board and we decide as a group what each tip is worth based on the outcome," Pedersen said.
Follow @APulidoHerald on Twitter
22