Immigration Minister threatens criminal investigations into lawyer denouncing refoulements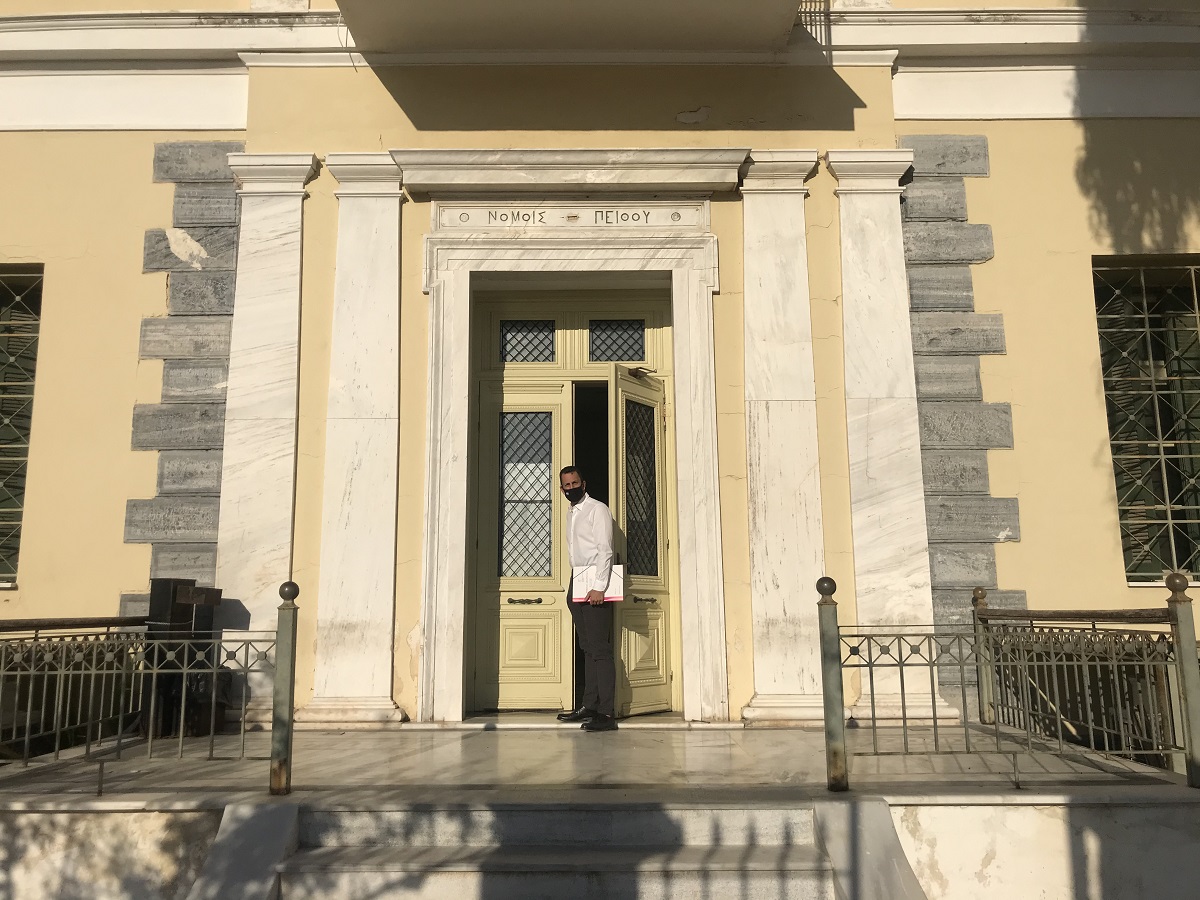 Following the direct testimony of Cornelia Ernst, MEP, on an ongoing refoulement in Samos, Notis Mitarachi denies and announces investigations by the authorities of Dimitris Choulis, human rights lawyer and consultant for Still I Rise.
The criminalization by the Greek government of those who defend the human rights of asylum seekers continues. Now in the crosshairs of Notis Mitarachi, the Minister of Asylum and Immigration, is "the privileged information of local lawyers" which "must be the subject of an investigation by the authorities", as he said. 'wrote on Twitter. There is no doubt that the target of his accusation is Dimitris Choulis, lawyer and consultant for Still I Rise, guilty of alerting the MEP Cornelia Ernst a landing and therefore a risk of refoulement in Samos on November 3.
Ernst was visiting the island with a delegation from the LIBE Commission when she heard about the refoulement. She joined a group of Doctors Without Borders and lawyer Choulis on an excursion into the woods where they found five people of Somali origin hiding out of fear of the police. The migrants said they came by boat with 19 other people, including women and three children, with whom they had lost all contact because they had probably already been turned back to Turkey..
"There were at least 4 police cars at different locations on the site, two identified and two unidentified at the site next to a monastery perched in the mountains. Some policemen wore uniforms, others weren't. It was not clear whether they were also trying to locate people or monitor us. " Cornelia Ernst wrote on Twitter. "It is clear to me that by finding them and physically handing them over to the Greek police a potential backflow has been prevented. I have read too many well-documented reports of refoulements to believe that they could have applied for asylum if we had not been there.
Cornelia Ernst also said she informed the delegation of what she saw. However, during the press conference of the delegation, questioned directly, the president of the LIBE Commission Juan Fernando López Aguilar stated that the delegation had not witnessed any illegal refoulements. And came Attack on Minister Mitarachi: "Categorical denial today on the front page of @efsyntakton. Yesterday's incident in Samos and the "inside information" of local lawyers must be investigated by authorities.
"The minister said I had inside information for the arrival. This necessarily means that the number of people on arrival was 24 and not 5 ", replies Dimitris Choulis. "So let's take a look at how I got the information, which is easy to explain since my phone number is shared by the Samos refugee community, who are encouraged to call to report any human rights violations. So let's find out where the other 19 missing from that boat are. I am ready to explain to any authority how a lawyer works, and I will be hesitant to hear how the disappearance of people works ".
Dimitris Choulis, born and raised in Samos, is the only lawyer who has chosen to fight for the rule of law on his island. In the past year he worked personally to avoid pushbacks and ensure that people have a legal means of registering their asylum claim. He has repeatedly defended asylum seekers criminalized by the authorities and has always taken a personal stand in denouncing the authorities for their conduct.
"Dimitris Choulis has been with Still I Rise since its inception: in 2018, he was the only lawyer on the island to help our organization with the registration process in Greece. Subsequently, he supported and presented to the Samos prosecutor's office the criminal complaint of Still I Rise against the head of the hotspot for human rights violations against unaccompanied minors. And it is Dimitris Choulis who represents us each time the authorities attack for ulterior motives ", explains Giulia Cicoli, Director of Advocacy for Still I Rise.
"In retaliation for his work in the defense of human rights, he is constantly attacked on social networks and Greek newspapers. Now there are even threats of criminal investigations against him by the Minister of Immigration. We cannot allow this: enough is enough! The European Commission has had two years and an ever-growing stack of evidence to conduct a serious investigation into illegal refoulements. Now there is also the direct testimony of a MEP. What else do we need to say "enough" to all of this? "
LEARN MORE ABOUT THE ONGOING CAMPAIGNS AGAINST THE CRIMINALIZATION OF ASYLUM SEEKERS AND HUMANITARIAN WORKERS IN GREECE
# FREETHESAMOS2 CAMPAIGN. After a shipwreck, the survivor incurs more than 230 years for "driving a boat" and his father accused of the death of his 6-year-old child. Dimitris Choulis is their lawyer.
Read the press release to defend N. and Hasan:
https://www.stillirisengo.org/site/assets/files/1290/statement_eng.pdf
Watch the video: https://www.youtube.com/watch?v=6m0NKWzWAH0
Share the petition launched on Change.org: https://www.change.org/p/appeals-court-of-aegean-drop-the-charges
#DROPTHECHARGES – FREE HUMANITARIAN CAMPAIGN. A lawsuit against three aid workers for rescuing people in the Aegean Sea begins on November 18. Sarah Mardini, Seán Binder and Nassos Karakitsos face 25 years in prison for avoiding deaths and helping people in distress. According to the prosecutor's description of events, saving people from drowning is a crime if they do not have a Western passport.
Share the petition launched on Change.org: https://www.change.org/p/greek-minister-for-justice-dropthecharges-free-humanitarians